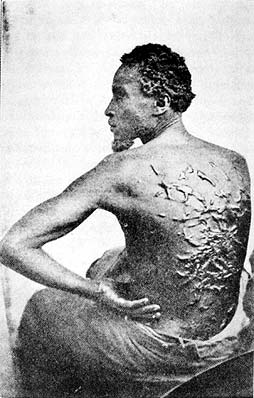 The history of the United States of America, the self proclaimed "land of the free" is peppered with the very worst abuses of humanity. While it is eager to point the finger of blame at other nations; the United States government has appointed itself the defender of human rights across the globe while its own record of exploitation presents a ghastly paradox.
Citizens and politicians alike have abdicated the essence of "liberty for all" in exchange for economic prosperity. The price of success for the American nation has been the wholesale dismantling of its founding principles. Americans continually view injustice as something that happens in remote countries in other parts of the world. The specter of slavery and oppression persists intentionally unseen within. The official state legitimization of human bondage is a threat to the good conscious of all people who call themselves educated or free. If American people wish to continue pretending to be the great emancipators of humanity then they must come to admit their own hypocrisy. Clearly, American history recounts the story of a people whose greatest moments of self-reflection have always come at a terrible cost in human suffering. The evil that America sees at-large in the world, and that which it seeks most ardently to destroy are the same evils of which it is most guilty
The use of prisoners as a labor pool is an old custom stretching back beyond written record. Human beings have made use of enforced servitude for millennia. It was the common practice for prisoners in the 17th century to be sent to penal colonies where the convicted men would be put work in grueling physical conditions. The United States and Australia were both built, in a large part, by the forced labor of prisoners and slaves. The state of Georgia has humble beginnings as an English penal colony. To this day Georgia has the dubious distinction of housing the largest inmate population in the United States and includes over 100 correctional facilities, factories and farms. (Geogia Correctional industries) As crime rates rise lawmakers find plenty of public support to allocate taxes for the building of new facilities in order to house the growing inmate populations. By promising that more prisons and more severe laws will provide safer communities the ethical arguments against convict labor, many of which are made by the U.S., are side stepped and morally fuzzy economic and social justifications are adopted. Americans tend to be very invested in human rights. What is unclear, are which humans they feel are entitled to those rights.
Laws are often written by people who are unable or unwilling to abide by to their own rules. Even as the ink dried on the Declaration of Independence the paradox of American moral superiority had begun. Thomas Jefferson famously wrote that, "We hold these truths to be self-evident that all men are created equal and are endowed by their creator with certain inalienable rights" (Jefferson). Though Jefferson was a poignant writer who beautifully expressed the core principals of liberty, he himself was the master of a large plantation worked by slaves. Almost immediately ethical compromises were struck by the authors of those principals in order to justify that very incongruity. Later, the thirteenth amendment would emancipate slaves, however, it included special language which allowed for the continuation of forced labor in prisons.
Prisoner labor currently provides for a wide variety of services to both public and private sectors. Private prisons, which claim that prisoner labor offsets cost and reduces criminal recidivism, also fail to mention that they make a considerable profit from the labor. If there was no profit the industry of privatized incarceration would simply not exist. "Cost considerations are especially important for state governments, which must maintain balanced budgets. As a result, fiscal reasons, not rehabilitation, have been the most politically popular arguments for private use of prison labor" (Kang) Hence, the argument that forcing criminals to do hard labor will rehabilitate them and give them employable skills actually falls short when considering the fact that while work programs have found great success prisons; employment training and education programs for inmates, as well as post-incarceration assistance, is almost non-existent. Currently Georgia employs the labor of over 1,400 inmates while only 450 of those inmates are enrolled in education or job-skills training that will allow them to function outside of the criminal corrections system. (Geogia Correctional industries). Private prisons benefit more financially from recurrence of crimes than they would from the rehabilitation and reintegration of convicts into mainstream society. "The ineffectiveness of private prison labor in meeting its stated purposes demonstrates how this policy is primarily a populist political response, not actually a revenue-raising or rehabilitation program" (Kang).
Prisoners in America have little or no recourse available to them when their rights are violated or if their labor is wrongfully exploited. An unfortunate sentiment among Americans is that prisoners have given up their rights by choosing to commit crimes against the community. However the community resigns the convict to a life in which criminal deviance because it becomes one of the few means of survival left to people with criminal backgrounds. The affluent society may deny responsibility for creating the underclass, however, it simultaneously relies on its existence. Many agree that prisons do not rehabilitate criminals, and this widely held perception has a clear effect on how formerly incarcerated people are received back in society. A criminal background check is the standard practice of many businesses and universities. People convicted of felonies are not allowed to vote, and are prevented from holding office. The upward mobility of any person, post-incarceration, is severely restricted and often a return to criminal activity is the only viable option.
Upon a very cursory examination the parallels between strict contemporary repeat-offender legislation and post-civil war Jim Crow segregation laws, which were intended to prevent black African Americans from excising the full entitlements of their citizenship, are blatant and even celebrated as the means by which our communities are kept safe. One example is that Felons are forbidden to vote or participate in government for the rest of their lives. Many job positions become permanently closed no matter how many years pass or how many academic degrees are earned. Most insidiously by using the law to restrict it's inhabitants lives to that of poverty and crime, prisons have created a revolving door from which very few people are provided the opportunity to escape. The incarceration is not limited to the body, it also inhabits the mind. African American males, who previously made up the majority of the American slave population, are intentionally singled out for incarceration by the types of laws that are being enacted. Drug prohibition laws gained political ground after the overturning of alcohol prohibition precisely because substances like cannabis and cocaine were primarily being used by minorities at that time. "The reality that so many young, low-skilled, minority men are being incarcerated will have dire effects on this population's employment prospects, racial disparities, and the ability to become productive law abiding citizens" (Cox).
While the racial makeup of forced labor in America has not changed much in the 200 years since this
country was founded. What has changed is the tone of the rationalizations used to justify their existence. The slow reincarnation of the popular conscious on the constitutionality of drug prohibition laws only began after these substances had found favor with young white people. Even as drug laws are being overturned young black males find themselves being incarcerated more often than young white males for the same crimes. Every single state correctional system will bear out the truth of that statement.
H. L. Mencken wrote, "The trouble with fighting for human freedom is that one spends most of one's time defending scoundrels. For it is against scoundrels that oppressive laws are first aimed, and oppression must be stopped at the beginning if it is to be stopped at all" (qtd. in Keeler 185). There is stunning capacity for rationalization in the American consciousness when it comes to the undesirable segments of its own population. The combination of fluctuating economic anxieties, racial prejudices, and unbridled capitalist ambitions have allowed self-described progressives to favor draconian systems of crime and punishment. United States policy makers draw massive support for increasingly disciplinary laws that target minority, low-income, and unrepresented groups. A recursive series of morally abhorrent consequences come to fruition for the people that these laws target, not the least of which is the creation of largest slave-labor force in the history of mankind.
Although the U.S. prison population is estimated to reach 9 million by the year 2015, the U.S. takes a hardline stance against the moral injustice of convict labor when it occurs internationally. While claiming to be concerned over the unfair use of convicts for labor in other nations, such as China, the U.S. government continuously benefits from the labor of its own incarcerated population. This condemnation is a glaring hypocrisy which seems to have escaped the notice of its ethically indignant citizenry. Susan Kang writes, "The United States' condemnation of Chinese prison labor exemplifies the way the US has appointed itself a moral police man of the global economy" (Kang). Another mitigating factor of the American people's acquiescence to policies that obviously contrast with their principles, is that it is responding to anxiety in the face of an uncertain global economy. "The United States' condemnation of Chinese prison labor began at roughly the same moment that the United States legalized its own private use of prison labor. In the context of contemporary globalization, changes in international economic policies and domestic criminal policies have been intimately related. The US incarceration rate, for instance, was at its lowest point just one year before average wages peaked in 1973" (Kang)
One convenient policy change leads to another, the legalization of private prisons also coincides with the federal militarization of the newly named "War on Drugs" which favors zero-tolerance policies and steep sentencing for non-violent drug users. Suddenly, prisons have found themselves with larger populations than they could hold. Since 1980 Drug offenders have taken up a significantly larger portion of the prison populations legitimizing the need to build even more prisons. (Cox). With a large labor pool and production industry prisons are able to produce many goods and services which are sold back to the government at below-market cost. Prison labor effectively drives other private businesses out of the running for government contracts by being allowed to undersell their competition like the state of Georgia where prisons may only legally sell to government entities. (Geogia Correctional industries)
The sad reality of American law making is that it does not protect the freedoms of its citizens. Instead we see a system designed to take so our so-called "inalienable rights" away from us at the slightest of infractions. The very lives of the lower classes are being sacrificed in the name of economic goals. Crimes that were once considered matters of personal choice can sentence a person to enforced servitude, hostile living environments, and societal segregation for the rest of their lives. America does not seem to have lost its taste for involuntary labor. It has however lost its taste with the international community who are reaping the same benefits. The consequences of that hypocrisy are not only felt by the inmates and their families. Society itself must eventually deal with the fall-out of creating a criminal under-class. Exploding prisoner populations have not indicated safer streets or decreased criminal recidivism. Instead there is a growing percentage of people that being stripped of basic human rights and equal opportunities. The same country that glorifies the emancipation of the slaves was built and is still run on forced to labor for the profit of private entities. In this case America has not freed the slaves or changed the meaning or use of convict labor. America has merely repackaged slavery behind a thin veneer of collective morals and personal safety. Unfortunately People often do not recognize that their rights are being taken from them until they are already gone.
Works Cited
Cox, Robynn Joyce Afi. "An Economic Analysis of Prison Labor."
Economic Disseratations Department of Ecomonics Georgia State University Digital Archive
(2009): 1-183. Document.
Encyclopedia, Columbia Electronic. Columbia Electronic Encyclopedia. 2013. Web Document. 20 April 2013.
Industries, Georgia Correctional. Geogia Correctional industries. 2013. website. 5 May 2013.
Jefferson, Thomas. "Archives.gov." 4 July 1776. The Declaration of Independance . Document. 2 May 2013.
Kang, Susan. "New Political Science." Forcing Prison Labor: International Labor Standards, Human Rights and the Privatization of Prison Labor in the Contemporary United States June 2009: 137-161. PDF Document .
Keeler, Mark. Nothing to Hide: Privacy in the 21st Century. Lincoln: iUninverse, 2006. PDF.